ASHEVILLE, NC – Yes, you can grow beautiful roses and fall is a great time to plant! These beautiful flowering shrubs add color and fragrance to your garden or landscape.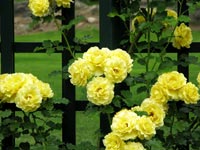 Learn how to choose the right rose for the right spot and how to keep it happy. This class will cover site selection, soil preparation, planting, and feeding. Different sizes and types of roses will be discussed, including modern and old garden roses, floribundas, polyanthas, shrub roses and climbers.
There are roses for almost every site. Roses that require little or no spraying will be emphasized, but organic and traditional sprays will be covered. Tips for dead-heading and pruning will be given and you will learn how to prepare your roses for winter. This program is intended for the relatively novice rose grower.
The class will be held on Wednesday, August 31 from 1 – 4 p.m. at the North Carolina Arboretum. Instructors are Extension Master Gardeners Judy Deutsch and Mary Reeves and the cost is $16 Arboretum members/$21 Nonmembers (includes entry/parking fee). There will be a limit of 40 students – register online at the NC Arboretum website www.ncarboretum.org.
For more information, contact Judy Deutsch [email protected].