ASHEVILLE, NC – To combat rising healthcare costs, the County offers a valuable resource for its residents.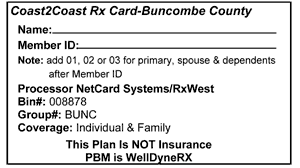 Since its launch in March 2010, the Coast2Coast Rx free discount card program has saved Buncombe County residents more than $1.6 million, for an overall average savings of almost 51% off of their prescription medications!
More than 60,000 medications are eligible for a discount under the Coast2Coast Rx program, which is offered at no cost to the county or its residents, and is available to everyone regardless of age, income, or medical history.
The cards are available at most major and independent pharmacies, on the website (coast2coastrx.com/buncombenc), at local libraries and all Buncombe County offices. If you need a card, give us a call at 250-4118. The card can be used anywhere across the nation, not just in Buncombe County.