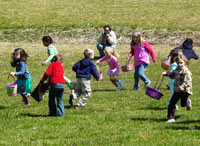 ASHEVILLE NC – Get ready for a hoppin' good time on Saturday, March 31 at the Zeugner Center. It's time for Buncombe County Parks, Greenways and Recreation Services Annual Egg Hunt and Indoor Swim! Don't forget to bring your egg collecting basket and a swim suit.
Registration begins at noon and the hunt begins at 12:15 p.m. After the Egg Hunt, all participants are invited to a party that includes crafts, face painting and games. The indoor pool is open to swimmers from 1 – 3 p.m.
Admission to the egg hunt and activities afterward is FREE. Admission to the indoor pool is $2 per person.
For more information, call The Zeugner Center at 684-5072. The Zeugner Center is located in South Asheville behind TC Roberson High School at 50 Springside Drive.
Find out about more Asheville events and Asheville things to do.