ASHEVILLE NC – Mark your calendar for Saturday, October 27 from 1 to 3 p.m. It's time for the 11th Annual Haunted Lagoon at the Zeugner Center. Admission is a can of food to be given to the Manna Food Bank plus $2 for those who would like to swim.
If you think your costume is the best, take a shot at winning our costume contest! The costume contest begins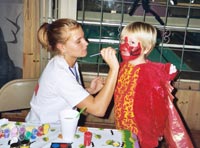 at 1:30 p.m. Contestants are divided into three age categories:
2 – 4 years
5 – 8 years
9 years and older
Prizes will be awarded in each age group. First prize awards will be given in two categories, "Scary Costumes" and "Not Scary Costumes."
Face painting and crafts will be available from 1 until 3 p.m. For those who want to swim, the indoor pool will be open from 2 – 4 p.m. Don't forget your swim suit, and remember to bring a bag to carry home your Halloween goodies!
For more information call The Zeugner Center at 684-5072. The Zeugner Center is located behind TC Roberson High School.