ASHEVILLE NC – Lake Julian Park presents "Walking in a Winter Wonderland"* at Lake Julian Park. The first two nights of the Lake Julian Festival of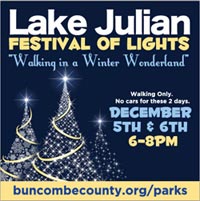 Lights are for walkers only.
Wednesday, December 5 and Thursday, December 6, Lake Julian Park will become a wonderland for pedestrians – no cars allowed! Enjoy the holiday lights from a new perspective as you stroll through the brightly lit woods.
Walkers will be serenaded with live holiday music by the band Graywolf. Take time to warm yourself by the fire and toast a couple of marshmallows with the kids.
Gates open from 6 – 8 p.m. Adults admission is $5 and children get in FREE!
Wonderland Walkers should wear comfortable shoes, warm clothing and be prepared to walk over half a mile on a paved walkway. The walkway is of moderate difficulty with some inclines. Parents with young children are welcome to bring strollers or wagons. No pets please.
Lake Julian Park is in Arden, just off Long Shoals Road. Parking for "Walking in a Winter Wonderland" is at Family of Faith Fellowship Church, 212 Long Shoals Road, Arden.
For more information, call (828) 684-0376 or email [email protected].
*"Walking in a Winter Wonderland" is subject to weather conditions. Lake Julian Park reserves the right to cancel the event or close the event early without notice.
Tags: asheville, events, Lake Julian, festival of lights