ASHEVILLE NC – Every year, families are faced with the challenge of how to dispose of medicines that are not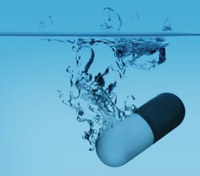 entirely consumed. Prescriptions change, symptoms improve, patients die, and individuals fail to take their medications as directed.
People are often left wondering what to do with the unused portions. In addition, over-the-counter medications purchased in large quantities often expire before they are used. These medications are usually thrown in the trash, flushed down the toilet or left to pile up in the medicine cabinet. This can lead to drugs contaminating our water supply, accidentally poisoning children and pets, or being stolen for illegal use.
A wide array of pharmaceuticals is present in our waterways – hormones, antibiotics, analgesics, antidepressants, and tranquilizers, to name a few. In 1999-2000, the U.S. Geological Survey evaluated 139 streams in 30 states for pharmaceuticals, hormones, and other organic contaminants. They found contamination in 80% of the streams tested.
Septic systems and wastewater treatment plants currently in use were not designed to remove pharmaceuticals. Several layers of additional and expensive treatment would be required to remove all of these chemicals from the water. Over multiple generations, the presence of medications in these bodies of water could impact aquatic life, animals, and even humans.
Improper storage and disposal of medications can also have tragic consequences for our children and pets. Every year, about 54,000 children under the age of six are treated in emergency rooms for poisoning from self-ingested prescription and over-the-counter medicines. Children are not the only ones at risk from accidental poisoning. In 2011, the Animal Poison Control Center received over 25,000 calls about pets consuming prescription drugs intended for people.
Finally, improper disposal or indefinite storage of certain pharmaceuticals creates opportunities for drug abuse. Commonly abused prescription drugs include opioid painkillers (narcotics), depressants prescribed for anxiety or sleep disorders, and stimulants used to treat attention-deficit/hyperactivity disorder, or narcolepsy.
In 2009, 16 million Americans over the age of 11 had taken a prescription pain reliever, tranquilizer, stimulant, or sedative for nonmedical purposes in the year prior to being surveyed. Simply throwing these drugs in the trash leaves the possibility that someone may end up using or distributing them in an illegal fashion. Allowing them to build up in your cupboard is not any better. Of surveyed teens who abused prescription pain relievers, 62% had to look no further than their parents' medicine cabinets.
Proper disposal of unneeded medications protects our environment, our communities, and our families. The Buncombe County Sheriff's Office now offers a drop-off program for safe drug disposal. There is a Pill Drop Box in the lobby of the Sheriff's Office, which is located at 202 Haywood Street in Asheville.
Here's how it works:
Pills should be taken from the original containers and put into the storage bags supplied at the drop point. ALL PILLS (vitamins, aspirin, pain medications, etc.) can be placed into the same storage bag. They will be incinerated as one item.
TAKE YOUR CONTAINERS AND LABELS AWAY WITH YOU. You should dispose of your personal identification information yourself. The plastic containers can be recycled with all other plastics in your curbside or drop-off recycling program. Medications can be dropped off Monday through Friday, from 8 a.m. to 5 p.m.
If you have questions about this program, call the Sheriff's office at 250-4503.
Tags: asheville