ASHEVILLE NC – On Saturday, September 28, Buncombe County Parks and Recreation Services will host the 6th Annual Tails and Trails 5K Adventure Run. The run starts at 9:30 a.m. and is open to adults,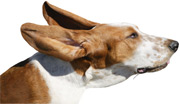 children and dogs of all ages.  Put your paws to the pavement and come join us for this unique fun run.
The run will take place on the Buncombe County Sports Park track. Advance registration is available by mail. The mail-in registration forms can be found online at buncombecounty.org/parks or call for a form.  Registration will be available through the day of the race. Register by September 13th to receive an event T-Shirt. Check in and late registration begins at 9:00 a.m. The cost is $20 for adults and $10 for children ages 4 – 12 and 2 cans of Dog Food, which will be donated to the Asheville Humane Society.  A portion of the proceeds from the event will be donated to Asheville Humane Society.
Dogs must remain on leashes at all times. The Buncombe County Sports Park is located in Candler.
For more information and registration forms please call Jay Nelson at 250-4269 or email him at [email protected].