ASHEVILLE NC – September 22 was the first day of Fall. According to The Farmer's Almanac (published since 1792 and well known for its accurate weather predictions) our area should experience the following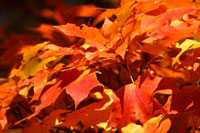 weather for the remainder of September and October this year:
September 2013
16th-19th. Thunderstorms along Gulf Coast. Rain for Tennessee east, then fair.
20th-23rd. Hot and oppressively humid.
24th-27th. Fair, turning much cooler for Mississippi Valley east.
28th-30th. Widespread showers for most of the Southeast.
October 2013
1st-3rd. Fair and cold; frosts invade parts of the Southeast.
4th-7th. Wet Tennessee Valley. Heavy rains Gulf States.
8th-11th. More frosty weather as it turns fair and colder.
12th-15th. Showery, then fair and blustery.
16th-19th. Pleasant early fall weather.
20th-23rd. Rain moves in, then quickly clears, becoming fair and cold.
24th-27th. Showers, turning fair and chilly.
28th-31st. Unseasonably chilly weather arrives for Halloween.
November 2013
1st-3rd. Showery rains.
4th-7th. Fair, cold; frosts.