ASHEVILLE NC – Light up your Holiday nights at the Lake Julian Park Festival of Lights.
The drive through show begins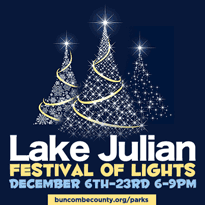 Friday, December 6 and is nightly from 6 – 9 p.m. through Monday, December 23.
The park is brightly lit with thousands of colored lights and over 50 animated and stationary light displays. The road circling the park becomes a magical journey through tunnels of dazzling lights.
The cost for this drive through presentation is $5 for a car, $10 for a van and $25 for a motor coach. A portion of the proceeds are donated to Buncombe County Special Olympics.
Lake Julian Park is located off Long Shoals Road. For information about this event, call 684-0376 or email [email protected].
Tags: asheville, events, Lake Julian, festival of lights