ASHEVILLE NC – Buncombe County Pools are now open daily for the season. The pools will remain open daily until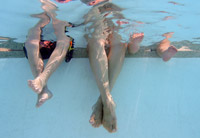 school begins in August.
Pool hours:
Monday – Friday (Noon – 5:45 p.m.)
Saturday (11 a.m. – 6:45 p.m.)
Sunday (1 – 6:45 p.m.)
The cost to swim is $3 per person. Discount passes are available at all pools.
10 visits for $25
25 visits for $50
Pool Contact Information:
Cane Creek – Fletcher (828) 628-4494
Erwin – Asheville (828) 251-4992
Hominy Valley – Candler (828) 667-9937
North Buncombe – Weaverville (828) 645-1080
Owen – Swannanoa (828) 686-1629