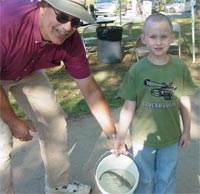 ASHEVILLE NC – The Kids Fishing Tournament at Lake Julian Park is Saturday, September 27, 2014. It's open to children ages 15 and under and is sponsored by The Recreation Division of Buncombe County Library, Recreation and Culture Department and West Ridge Auto Sales.
The Tournament begins at 8:30 a.m. and runs to 11:30 a.m. Register on site the day of the tournament for $10 per child, which covers fishing bait, snacks and a free hot dog lunch at the conclusion of the tournament. A fishing license is not required for children under 16 years of age.
This is a catch and release event and we will supply a bucket for each competitor's catch. After the fish has been weighed and measured, it is released back into the lake. Participants should bring their own pole.
Fishing is allowed anyplace inside the Lake Julian Park boundaries. No boat fishing is allowed. Children must be accompanied by at least one adult.
Children will be grouped into one of five age categories and prizes will be awarded in each of the categories.
Prizes will be given for:
biggest fish
smallest fish
most fish caught
In addition, competitors in every age group will have an opportunity to show off their casting skill. Casting poles and targets are provided by Lake Julian Park and children can demonstrate their ability anytime during the Tournament. There are prizes for the winners of the casting competition, too!
For information about this event contact David Blynt at 250-4266 or [email protected].
Tags: asheville, outdoors, fishing, Lake Julian, kids