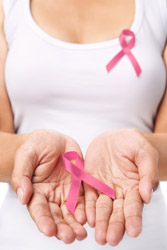 ASHEVILLE NC – October is National Breast Cancer Awareness Month. The National Breast Cancer Foundation estimates that 1 in 8 women will be diagnosed with breast cancer in their lifetime. We want people to know that a yearly checkup can save your life! In addition to a yearly exam by a healthcare professional, women should know the risk factors, early symptoms and signs of breast cancer as well as perform a monthly breast self-exam. When breast cancer is detected early, the 5-year survival rate is 98%.*
What Can I Do To Reduce My Risk of Breast Cancer?
Although you cannot prevent cancer, some habits that can help reduce your risk are:
Maintain a healthy weight
Stay physically active
Eat fruits and vegetables
Do not smoke
Limit alcohol consumption
Early Detection Saves Lives!
Find out how to do a monthly self-exam from your primary care physician. You can also find information on self-exams at www.nationalbreastcancer.org. Schedule a yearly check-up with your healthcare professional to make sure that there are no significant changes in your health that you might not be aware of. For a list of questions to ask your healthcare provider about breast cancer, click here: Questions for Your Doctor.
Get a Mammogram Somewhere!
Buncombe County Health and Human Services offers the Breast and Cervical Cancer Control Program (BCCCP). BCCCP helps to save lives of women through early detection. The program provides free breast exams, PAP tests for cervical cancer, and mammograms for women who are 18 – 64 years of age who meet certain eligibility requirements. If you have questions about breast cancer, or want to find out if you are eligible to receive a life-saving screening, please call (828) 250-6006 or visit www.buncombecounty.org/pink.
Breast cancer is the second leading cause of death for women in the United States. Simple choices such as becoming educated about breast cancer, frequent self-exams, and mammograms can save a life!
*according to the National Breast Cancer Foundation
Tags: asheville, October, breast cancer awareness