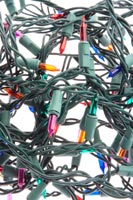 ASHEVILLE NC – If you are moving to more energy-efficient LED Christmas lights, or have decided to get rid of your old or non-working incandescent strings of lights – you can recycle them!
Just drop them by the Asheville Lowe's one-stop recycling center located inside the store – right next to the exit doors.
Looking for your perfect Christmas tree this year?  Boyd Mountain Christmas Tree Farm has you covered!