ASHEVILLE, NC – For the second year, A-B Tech will host the North Carolina Dental Society's Mission of Mercy, a free dental clinic for individuals in need, beginning at 6 a.m. August 5 and 6 in the gym in the Coman Student Center.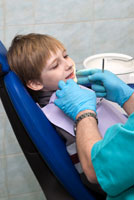 In addition to the state Dental Society and A-B Tech, the clinic is offered in conjunction with the local Dental Society, Eblen Charities, Three Streams Family Health Center, Asheville-Buncombe Community Christian Ministry, and others.
Missions of Mercy, or MOM, are sponsored by the North Carolina Dental Health Fund, a 501(c)(3) tax-exempt organization whose mission is to provide free dental services to those in financial need with few or no other options. The program is a grassroots effort that depends on volunteers, with funding from grants and donations.
Currently, NCMOM has enough equipment to set up a 45-chair full dental clinic, including digital x-ray, sterilization, and all instrumentation and supplies. Clinics generally have 20 to 45 chairs and services are provided for 300 to 600 patients during the two-day event. Volunteers include dentists, dental hygienists, dental assistants, dental students and members of the general public.
In 2010, the free clinic at A-B Tech proved to be one of the largest dental outreaches of its kind in the state's history. The event served more than 750 patients, providing dental x-rays, extractions, fillings, restorative care, and cleanings, with more than $450,000 worth of dental care being provided at no cost during the three-day clinic. Jack Teague, DDS, and nearly 50 dentists and more than 300 volunteers provided the services.
Learn more about receiving treatment (Patient FAQ's) or serving as a volunteer (Volunteer FAQ's) during the A-B Tech clinic.
Partners in the 2011 Missions of Mercy Free Dental Clinic include: Buncombe County, the Buncombe County Dental Society, Ingles Markets, Three Streams Family Health Center, Hearts With Hands, ABCCM, M B Haynes, Arby's, Chick-fil-A, Tarheel Physicians Supply, Lowe's, Pepsi, Hampton Inns, the Cliffs at Walnut Cove, Able-Rent –A- John, Rent-All, Biltmore Oil, Atlanta Bread Company, Extended Stay Hotels, Moe's, Providence 620, Olive Garden, Leslie and Associates, Inc, Party Blvd, Dunkin Doughnuts, and the Janirve Foundation.