ASHEVILLE NC – Buncombe County is bringing flu vaccine to the community by partnering with Maxim Healthcare, Buncombe County Schools and Asheville City Schools to offer Community Flu Vaccine Clinics at seven schools throughout the County from September 30 through October 9.
WHAT:  Flu vaccines in two different forms (as a shot and a nasal spray) will be offered at the Community Flu Vaccine Clinics at nearby schools.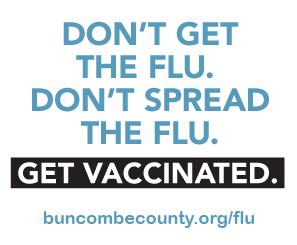 WHO:  Anyone 6 months and older.
WHEN/WHERE:  From 4 – 7 p.m. at the following locations:
Sept. 30:  Asheville Middle School
Oct. 1:  North Windy Ridge
Oct. 2:  AC Reynolds High School
Oct. 3:  TC Roberson High School
Oct. 7:  Owen High School
Oct. 8:  Enka Middle School
Oct. 9:  Erwin High School
WHY:  To assure that families of school age children have easy access to flu vaccine at no cost to children and pregnant women without health insurance, as well as adults who are eligible.
Increasing the number of children who are vaccinated against the flu helps reduce flu in our community.
For more information, call the FLU VACCINE HOTLINE at 250-6400, or call Gaylen Ehrlichman at 250-5045. Media requests call 775-1321.