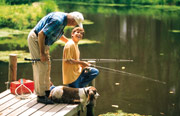 ASHEVILLE NC – July 4 is designated as a free fishing day in North Carolina, meaning anyone – resident or non-resident – can fish for free in any public water, including coastal waters, without a license.
All other fishing regulations, including length and daily possession limits, as well as bait and tackle restrictions, apply.
To find a fishing spot near you, visit the Commission's website for a list of more than 500 free fishing-access areas across the state.