ASHEVILLE NC – "The Winter Garden" will be presented by Master Gardener Ralph Coffey on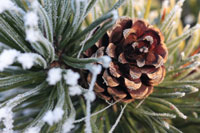 Tuesday, November 15 at 6:30 p.m. at the Swannanoa Library.
Using photographs from his own garden, Ralph will show how to design a garden based on winter interest, with an emphasis on plants that offer color and beauty all year long.
He'll discuss how to design the garden with evergreens and conifers, deciduous trees, grasses, shrubs with fruits and berries, and hardscape (including water and stone). Ralph owns the 1889 White Gate Inn in Asheville where he has developed extensive gardens over the past 13 years.
This program is free and the public is invited. For more information, call the library at 250-6486.