ASHEVILLE NC – Buncombe County Parks, Greenways & Recreation Services is offering one more session of swim lessons this summer. Swim Lessons are available for anyone age 3 and older. Lessons are divided into 5 levels of swim experience, plus a preschool level for swimmers ages 3 and 4.
Preschool and Level 1 is a water acclimation class for beginner swimmers.
Level 2 teaches swimmers to float on their back and use their arms and legs.
Level 3 swimmers learn the front crawl and backstroke.
Level 4 and 5 lessons are taught in the deep end of the pool. Students improve upon what they have learned and begin to work on sidestroke and diving.
Registration for lessons is July 8. Sign up at the pool you plan to attend. Lesson availability is first come, first served.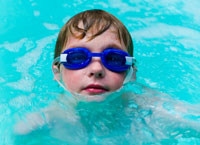 July 15 – 25 – Classes will be Monday – Thursday at 10 a.m., 11 a.m. and 6 p.m.
Swim levels can be determined by speaking with the life guard on duty at the pool.
The cost is $30 per person for a session of eight classes. You must register and pay at the pool at which you will be attending.
Cane Creek Pool (Fairview/Arden)
Erwin Community Pool (Leicester)
Hominy Valley Park Pool (Candler)
North Buncombe Park Pool (Weaverville)
Owen Pool (Swannanoa/Black Mountain)
For more information, call Teri Gentile at 684-5072, email her at [email protected], or contact the pool you will attend.